Research conducted in the first year of the project (qualitative interviews, focus group interviews and surveys) allowed us to form an understanding about the challenges, which has served as a basis from which, new measures and tools have been developed. Among our most recent tools are dialogue cards, which have been developed by engaging students in designing and testing them.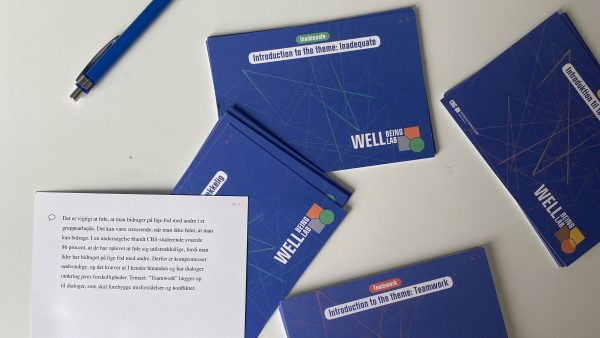 The cards support the Nordic nine vision of students being critical when thinking and constructive when collaborating, because they help the students to open and share their real experiences and stories. Thereby they learn important things about themselves and others, which are relevant for collaborating. A student explains his experiences of playing the cards:
"You learned how others feel when you are pressured but you also got the opportunity to evaluate yourself. It also made you closer with your fellow students by talking about something we don't normally do." 
The framing of the card helps to create an environment in which students can be safely challenged and supported by each other. A student, who has tested the card explains:
I thought: "Is this really how I am?". It was in a way a surprise even if I already knew it. It also surprised me that I allowed myself to be open. Because I felt safe in the group I was in, and I just wanted to open up more and listen to the others even more.
Trust is an important element for establishing a dialogic environment and empowering students to speak up about concerns and get outside their comfort zone and possibly even feel ridiculous. The evaluation of the cards showed that they created opportunities for students to identify common issues collaboratively to build trust, which this student reflects on in the following manner:
I was very surprised by the fact that it was very easy for everyone to talk about situations where we have been stressed and not least that it is something we so often all experience
The card can be used in relation to group work, in study groups, but teachers can also use them in their teaching and thereby integrate Nordic nine in teaching activities to help the student to take collective responsibility and learn and appreciate the competencies of co-students and engage in open and honest communication – trust, respect, and support others. The evaluation of the cards shows that they are suitable for this. This is how students experienced using the cards:
First of all, I learned something new about my fellow students which have done so that I better can help them in the future. Talking about how sometimes it is hard and difficult to study with some of my fellow students meant that I found out that I was not alone with those thoughts which gave me a sense of security. You also got to know yourself a little more when you had to think about how you felt/how you want to react.